PM Modi unveils policy for Logistics
Logistics is the overall process of managing How resources are acquired, stored and transported to a final destination. The New policy on Logistics has been introduced to address challenges faced by the transport sector & bring down the Logistics cost for businesses from 13-14% to a single digit. Logistics Cost is basically the amount spent on moving the product from its source to its destination. Different modes of transport including road, rail, shipments and even air are utilised for the same. There also exists a requirement of storage facilities. The overall logistics cost in India hover around 13-14% of the total product cost, whereas developed countries like USA & Japan have these figures between 9-11%.
The Government of India has come up with a new policy for Logistics as there is a growing trend in logistics costs and with an aim to bring down these costs. According to the Commerce Ministry, the sector is complex with more than 20 Government Agencies, 40 Partner Government Agencies (PGAs), 37 Export Promotion Councils, 500 Certifications,10000 Commodities and $160 Billion market size. The sector provides livelihood to more than 72 Million people and improving it will facilitate 10?crease in indirect costs leading to a 5-8% growth in exports, the Ministry stated.
The total worth of Indian Logistics sector is over $200 Billion. Following are the features of the New Logistics policy: 
1) Integration of Digital systems: Data from multiple departments and ministries will be integrated under a Single System
2) Unified Logistics Interface Platform (ULIP): A dashboard to display all the modes of transport available to facilitate smooth cargo movement.
3) Ease of Logistics (EOL): The new policy will simplify rules for Logistics Business
4) System improvement group: Designated Officers to monitor all logistics projects regularly and remove bottlenecks in a time-bound manner.
5) Focus on skilling: Attention will be given to skilling. Generating employment opportunities will also be given importance.
6) E-Handbook: Will aim to standardize warehouses of physical assets.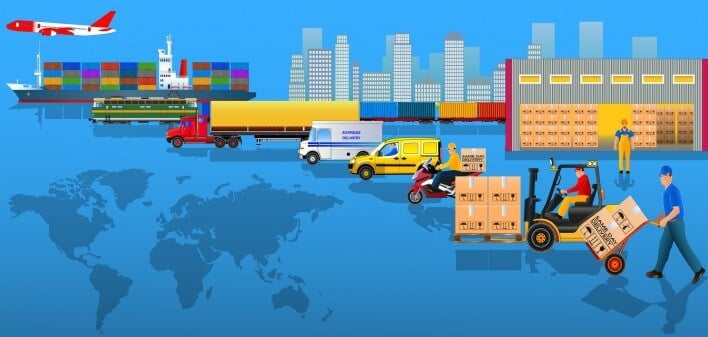 Government of India has adopted a multi-step approach to reduce logistics costs. Reduced Logistics costs and increased efficiency will energize the whole economy & pave way to India becoming 'The Manufacturing Hub'   
Source : The Hindu